posting what I see, hear and feel
December 23, 2011
No. Nobody found Mayan ruins in Georgia - Boing Boing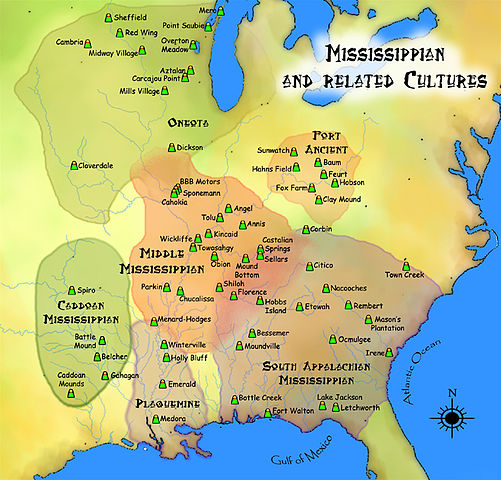 December 21, 2011
That's Delmonico's on Fifth Avenue at 44th Street, which opened in 1897 and entertained such famous diners as the Prince of Wales, who became King Edward VII. Today's History Page takes you inside the luxe eatery, and how it brought French opulence to American food.

For two centuries, Americans who dined out had been doing so in taverns or inns. There they guzzled beer, paid a fixed price for whatever meat-and-two-veg fare was on offer, and sometimes engaged in raucous political debate. In the 1820s, however, new eating options emerged. Within Manhattan's cramped business district, short-order joints known as "six-penny houses" — the fast-food spots of their day — bustled with lunchtime crowds, who devoured mediocre meals amid general pandemonium. Meanwhile, fancy hotels were offering an increasing variety of dishes, though they tended to serve them all up at once, compelling diners seated around communal tables to polish them off as fast as they could.

 The Delmonicos, by contrast, adopted Parisian customs. For the first time, as Lately Thomas writes in "Delmonico's: A Century of Splendor," "New Yorkers were able to order a luncheon or a dinner of their choice, select from a varied bill of fare, have it cooked to perfection and served at the hour they named, wash it down with a sound light wine, and pay a reasonable, set price." Diners sat at their own tables, where they were treated to suave service and ate at a leisurely pace. This made Delmonico's the first New York dining establishment worthy of being called a restaurant. (The French word had not yet entered common English usage.)
(via thedailyfeed)
October 9, 2011
Happy Leif Erikson Day!!!!
Today is Leif Erikson Day. Or "Leif the Lucky" Day.

In fact, the Norse explorer couldn't have had worse luck when it came to cement his place in history.

Believed to have discovered North America in the year 1000 — almost 500 years before Christopher Columbus would receive credit for the same feat –- Erikson remained a relatively obscure character until 1837 when Danish literary historian Carl Christian Rafn published the first scholarly analysis of the Pre-Columbian Norse exploration.

Nevertheless, many years passed until Leif the Lucky received the consideration he deserved. It wasn't until in 1964 that President Lyndon B. Johnson designated October 9 an annual American observance in honor of the explorer.

"The intrepid exploits of the Vikings of Erikson's time strike a responsive chord in the hearts of all the American people, who as a nation are today embarked upon an adventurous exploration of the unfathomed realms of space," Johnson said.

Leif Erikson (about 970 – about 1020) was the son of Erik the Red, the first European to land and settle on Greenland after he was exiled from Iceland. Leif launched an even more ambitious expedition, which was recorded in several different sagas.

According to the Groenlendinga saga, Leif heard of a land to the west of Greenland from an Icelandic trader, and went to find it.

Sailing westward from Greenland with a crew of thirty-five, he probably landed first on the southern part of Baffin Island, then sailed to the coast of Labrador on the Canadian mainland.

From a land they called Markland ("Woodland"), which is possibly Belle Isle, an island between Labrador and Newfoundland, the Vikings arrived on to a place they called Vinland, or "land of the vine."

Boasting wheat fields and grape vines, the place was probably a spot on Newfoundland's northeastern tip.
more at Discovery.com
September 28, 2011
The history of the ice cream cone!

The very first cone appeared [in the early 19th century]. One example can be seen in a French engraving published in 1807, in which a busty lady at a Parisian café hangs her mouth open before a precariously sideways ice cream cone.

But could she chew the cone? The owner of the print said that's likely, although paper and metal cones were prevalent in France. Edible waffle cones were also popular in Dusseldorf, Germany, before the turn of the century, and English cookbooks from the middle of the 19th century give recipes for a custard-style ice cream served in delicate baked almond cornets.

(Source: thedailyfeed)
September 23, 2011
seems like yesterday…
Doonesbury mid January, 1985
May 5, 2011
now this is a knife…
When Major William Ewart Fairbairn, chief of police for the British concession in prewar Shanghai, China, collaborated with Eric Anthony Sykes to design a special knife, he had murder on his mind. Conceived for the close-in combat then common in Shanghai's streets and back alleys, the Fairbairn-Sykes fighting knife saw wartime use by several Allied assault forces. London's Wilkinson Sword began full-scale production in January 1941, and by war's end it and other manufacturers had produced almost 2 million knives of varying patterns and quality, some 20,000 seeing service with the U.S. Office of Strategic Services, precursor of the CIA.
May 5, 2011
Astronomy Picture of the Day
Fifty years ago, near the dawn of the space age, NASA controllers "lit the candle" and sent Mercury astronaut Alan Shepard arcing into space atop a Redstone rocket. His cramped space capsule was dubbed Freedom 7. Broadcast live to a global television audience, the historic Mercury-Redstone 3 (MR-3) spacecraft was launched from Cape Canaveral Florida at 9:34 a.m. Eastern Time on May 5, 1961. The flight of Freedom 7 - the first space flight by an American - followed less than a month after the first human venture into space by Soviet Cosmonaut Yuri Gagarin.
April 29, 2011
The Battle of New Orleans….
enacted with Legos.
with the classic Johnny Horton song!
more Lego fun at Mental Floss
April 23, 2011
Happy Birthday, Will !!!!
According to tradition, the great English dramatist and poet William Shakespeare is born in Stratford-on-Avon on April 23, 1564. It is impossible to be certain the exact day on which he was born, but church records show that he was baptized on April 26, and three days was a customary amount of time to wait before baptizing a newborn. Shakespeare's date of death is conclusively known, however: it was April 23, 1616. He was 52 years old and had retired to Stratford three years before.

Although few plays have been performed or analyzed as extensively as the 38 plays ascribed to William Shakespeare, there are few surviving details about the playwright's life. This dearth of biographical information is due primarily to his station in life; he was not a noble, but the son of John Shakespeare, a leather trader and the town bailiff. The events of William Shakespeare's early life can only be gleaned from official records, such as baptism and marriage records.

He probably attended the grammar school in Stratford, where he would have studied Latin and read classical literature. He did not go to university but at age 18 married Anne Hathaway, who was eight years his senior and pregnant at the time of the marriage. Their first daughter, Susanna, was born six months later, and in 1585 William and Anne had twins, Hamnet and Judith. Hamnet, Shakespeare's only son, died 11 years later, and Anne Shakespeare outlived her husband, dying in 1623. Nothing is known of the period between the birth of the twins and Shakespeare's emergence as a playwright in London in the early 1590s, but unfounded stories have him stealing deer, joining a group of traveling players, becoming a schoolteacher, or serving as a soldier in the Low Countries.

The first reference to Shakespeare as a London playwright came in 1592, when a fellow dramatist, Robert Greene, wrote derogatorily of him on his deathbed. It is believed that Shakespeare had written the three parts of Henry VI by that point. In 1593, Venus and Adonis was Shakespeare's first published poem, and he dedicated it to the young Henry Wriothesley, the 3rd earl of Southampton. In 1594, having probably composed, among other plays, Richard III, The Comedy of Errors, and The Taming of the Shrew, he became an actor and playwright for the Lord Chamberlain's Men, which became the King's Men after James I's ascension in 1603. The company grew into England's finest, in no small part because of Shakespeare, who was its principal dramatist. It also had the finest actor of the day, Richard Burbage, and the best theater, the Globe, which was located on the Thames' south bank. Shakespeare stayed with the King's Men until his retirement and often acted in small parts.

By 1596, the company had performed the classic Shakespeare plays Romeo and Juliet,Richard II, and A Midsummer Night's Dream. That year, John Shakespeare was granted a coat of arms, a testament to his son's growing wealth and fame. In 1597, William Shakespeare bought a large house in Stratford. In 1599, after producing his great historical series, the first and second part of Henry IV and Henry V, he became a partner in the ownership of the Globe Theatre.

The beginning of the 17th century saw the performance of the first of his great tragedies, Hamlet. The next play, The Merry Wives of Windsor, was written at the request of Queen Elizabeth I, who wanted to see another play that included the popular character Falstaff. During the next decade, Shakespeare produced such masterpieces as Othello, King Lear, Macbeth, and The Tempest. In 1609, his sonnets, probably written during the 1590s, were published. The 154 sonnets are marked by the recurring themes of the mutability of beauty and the transcendent power of love and art.

Shakespeare died in Stratford-on-Avon on April 23, 1616. Today, nearly 400 years later, his plays are performed and read more often and in more nations than ever before. In a million words written over 20 years, he captured the full range of human emotions and conflicts with a precision that remains sharp today. As his great contemporary the poet and dramatist Ben Jonson said, "He was not of an age, butfor all time."
April 20, 2011
The Guardian
Fond hopes that ancient Britain enjoyed a golden age of peace before Roman and other invasions have been shaken by a gruesome discovery in a Derbyshire hill fort's defensive ditch.

For the first time in the UK, archaeologists have found carelessly-buried iron age skeletons which suggest a selective massacre of women and children.

The tumble of scattered bones has come as a surprise to those taking part in one of the biggest community digs in recent British archaeology.